Romduol Flower (Metralla mesnyi): The National Flower of Cambodia
Romduol, a small yellowish-white flower, is the national flower of the Kingdom of Cambodia via the proclamation of royal decree by King Sihamoni of Cambodia in 2005. The Khmer common name is "Romduol" and it has a scientific name "Metralla mesnyi".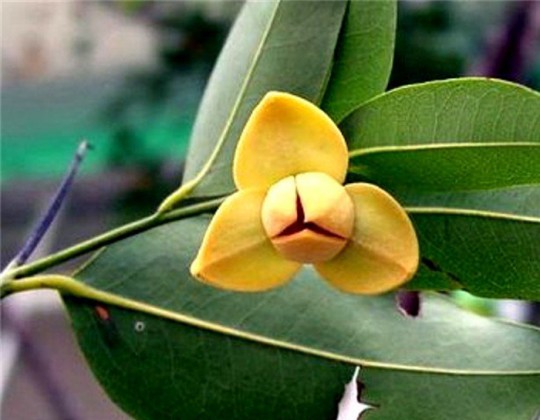 Since ancient times, Cambodian women have often been compared to the Romduol flower because of its attractive fragrance; a unique scent that is prominent in the late afternoon and can travel over long distances with the wind. With its sturdy stems that measure up to 20-30 centimeters, the Romduol plant can grow to a height of 8-12 meters. The bark of the stem is yellow-brown. Leaf is single alternate without spur. Leaf is flat and long in form with the size of 2-4 cm multiply 6-10 cm. Romduol flowers are white-yellow color and have fragrant smell for a long distance during the late afternoon and the evening. Fruit are cluster with dark-red color when it ripens; and it is edible.
Romduol grows in the nature and can be seem almost everywhere in Cambodia. These plants are being planted to enhance public parks and for decoration of houses by Cambodian people as it is valued for its fragrance. Due to fragrant smell of the flowers, ancient time of Khmer people like to use it for make a scented lip wax for women called Kramuon Romduo. In addition, Stem of Romduol can also be used for supplement construction materials and firewood. In the season of maturing of Romduol fruit, people who live close to the forest is always collecting the Romduol fruit to sell for living. Moreover, there are several regions in Cambodia are named after this flower, such as Romduol District and Ou Romduo and also some Khmer's author has written some song such as Romduol Kratie and Romduol Pursat, etc.
---
Gallery
---
Category
---
Reference
- Royal Decree (2005, March 21). the Designation of Animals and Plants as National Symbols of the Kingdom of Cambodia. Cambodia: Office the Council of Ministers
- គរុនិសិត្សអក្សរសាស្រ្តខ្មែរ ជំនាន់ទី២០
២០១៤-២០១៥, កិច្ចការស្រាវជ្រាវ សម្បត្តិនិមិត្តរូបនៃប្រទេសកម្ពុជា, វិទ្យាស្ថានជាតិអប់រំ, ក្រសួងអប់រំ យុវជន និងកីឡា

---