Chek Pong Moin (Musa Aromatic)
The National fruit of Cambodia is the Chicken egg banana. The banana is regarded as the national fruit of Cambodia among the most other valuable plants and provides many benefits to society same as a palm tree and Rumduol flower.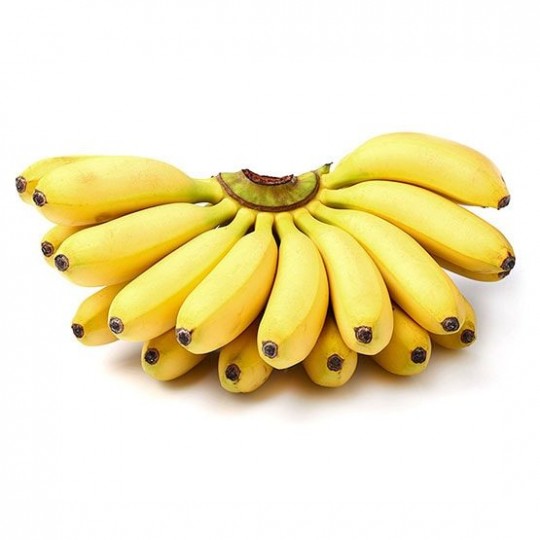 Chek Pong Moin is called in the Khmer language, and the name of the scientific is Musa Aromatic and Chicken Egg Banana in English. The banana is a type of banana used by Cambodia people for a various purpose. It has a small body, and the small corm is lightweight and is quick to harvest. It has slightly rounded-shape, green color when unripe, and yellow when ripe. It is one of the most expensive bananas in the market among the other two types: Pisang Awak (Chek Nam Va) and Chek Om Boung. The banana has been cultivated in Cambodia for a long time, although it originated in India, for example, in some of the Khmer folktales were also mentioned about the banana such as Chao Sror Toib Chek. Most of the bananas are planted along the Mekong Delta area, especially in the new emerge islands. It is a plant that Khmer people cultivate during June and July and harvest in the next 5 or 6 months.
The reasons for choosing Chek Pong Moin as a national symbol due to this banana provides a great benefit to Khmer society and also wants to show this valuable natural heritage to others. There are many advantages of this banana such as:
Banana is the most effective in many therapeutic such as Constipation, Gastritis, Enteris, vomiting, lack of blood, obesity, heart disease, and some other diseases.
Ripe Bananas could be eaten or served as deserts. While the flower and unripe banana are used as the vegetable for cooking or eating according to the custom of the people.
Its peel can also eliminate pains, rash or swelling when getting stung or bite from the insects, by just apply on the spot where the wound.
They take the banana tree to feed the animals such as pigs, cattle, duck and so forth. The leaves are used to pack foodstuffs and make Baysei in curtained ceremonies in Hinduism and Buddhism.
Its trunk is a source of Amino acids powder.
Furthermore, Cambodian farmers can harvest bananas to sell to support their living.
Due to its appearance and abundant benefits, we have designed it as a national symbol according to by the Royal Decrees NS/RKT/0305/149 dated 21st March 2005 and also protected and preserved from the Ministry of Agriculture, Forestry and Fisheries according to Prakas 359 SKS.PR dated August 1, 1994.
---
Gallery
---
Category
---