Robam Jun Por (Blessing Dance)
Robam Choun Por (Blessing Dance) is traditionally performed at the beginning of a ceremony to greet, bless, and offer good wishes to the audience. Khmer, as a nation, present their identity with pleasant, politeness, and honesty and prefer to develop friendship and building peace. Guests and relatives are welcomed with cordial hospitality. The Blessing Dance is a masterpiece of Her Majesty the Queen Sisowath Kosamak Nearyrath who created this dance to reflect the pleasant character of Khmer nation.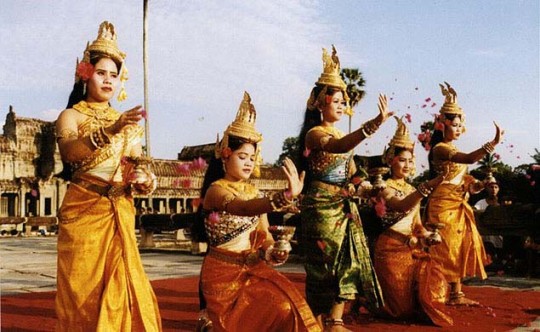 Cambodian Blessing Dance (or Robam Choun Por in Khmer language) is a Khmer traditional dance from the repertoire of Cambodian classical ballet to mark special holidays in Cambodia. The dance features graceful and elegant movements, holding golden goblets. Inside the goblets are flower blossoms, for example jasmine, lotus or Romdoul blossoms. The blossoms are symbolic representations of blessings from the Gods. As the dancers pluck the blossoms from the goblets and gently toss them forward toward the audience, the gesture symbolizes the blessings of the Gods falling upon the audience.
The female dancers, costumed in Khmer Classical Royal Ballet to represent the Devata (angel), carry the golden treys full of jasmine and scatter the flower to their guests with honor and wishful blessing. This dance is performed by a group of young Khmer girls (3, 5 or 7 people) to wish for good health, happiness, prosperity and success. The blessing dance was first performed in Cambodia to rid the royal palace of evil spirits and bless the Royal Kingdom. It was originally performed only for the King and other members of the Royal Family, the leaders of the country and their official guests.  Today it is performed to bless events and welcome guests in many good formal occasions like weddings and opening ceremony to bring luck and prosperity.  
---
Gallery