Robam Jun Por (Blessing Dance)-One of the Repertory of Dances to the Royal Ballet of Cambodia
Cambodia, the Pearl of Asia, always dazzles you with its brilliant sceneries and indigenous Khmer culture that has been conserved and exalted for centuries. Robam Jun Por (Blessing Dance) is traditionally performed at the beginning of a ceremony to greet, bless, and offer good wishes to the audience. Khmer, as a nation, present their identity with pleasant, politeness, and honesty and prefer to develop friendships and build peace. The Blessing Dance is a masterpiece of Her Majesty the Queen Sisowath Kosamak Nearyrath who created this dance to reflect the pleasant character of the Khmer nation.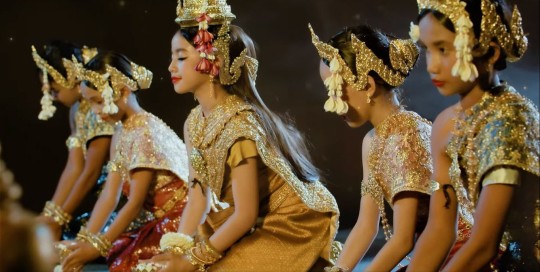 The Prominence of Cambodian Classical Dances
For Cambodians, dancing is more than simply a form of entertainment. It is a part of life with its rich meaning. The dancers' ability to convey the actual feelings of the characters they depict through their body language, attitudes and facial expressions sets the classical dancers apart.
As it turns out, the sophisticated dance of drama, romance, enchantment, and tragedy are just some of the Cambodian dance performances. The implication is that various characters, including monarchs, malevolent giants, gracious primates, and male and female divinities, play a role in the dancing storyline.
What Are Traditional Dances in Cambodian Culture?
There are three primary types of Cambodian dance:
1. Khmer Classical Dances (also known as Court Dances).
2. Folk Dances (which portray traditional tribal life).
3. Social Dances (popular dances)
Dancers from a thousand-year-old Angkorian temple are the inspiration for legends, myths, histories, and narratives depicted in the performances. The artists etched into the walls performed for the heavenly Gods. For this reason, they are remembered fondly across the kingdom.
Khmer classical dance is Cambodia's most famous performing artistic expression, established in the palaces and formerly performed and upheld by royal representatives. Later on, it was integrated into the general population in the mid-20th century and extensively recognized as an example of Cambodian civilization. Visitors to Cambodia may see this dance performed at festivals and other public occasions.
A Glimpse of Khmer Classical Dances
The most priceless form of artistic expression in Cambodia is classical Cambodian dance, often recognized as a court dance. Classical Cambodian dances date all the way back to the Angkorian dynasty of the 12th century. Over a millennium ago, classical dance was founded as a means of communication between the divine realm and human society. During the contemporary era, classical dancers were dedicated to performing for the royal family and other VIPs only.
Unfortunately, classical dance performances, academics, skills development, religions, and tradition were all outlawed under the Pol Pot regime. Between 1975 and 1979, approximately 90% of all Cambodian intellectuals perished.
As Cambodia made it through the genocide era, the Royal University of Fine Arts (RUFA) in Phnom Penh has been teaching classical dance since the early 1980s, with the help of the survival dancing masters. And in the end, the Cambodian people's cultural identity and heritage are still defined through classical dance today.
More than anything, technical proficiency, versatility, and precision are all necessary for classical dancers. She dances with perfect balance, graceful manifestation, and impeccable sentiment as the dancer flexes her toes upwards and bends her fingers backward.
Cambodia's classical dance must be accompanied by the Pin Peat Orchestra, Cambodia's oldest and most respected symphony. In addition to complimentary shadow plays, all-male dance dramas, and temple rites, the Pin Peat is primarily a percussion instrument. The implication is that, in every song of the Pin Peat symphony, particular melodies highlight the dance's entrances, exits, and characteristic gestures like sobbing, soaring or strolling.
"Robam Preah Reach Trop," or the Royal Ballet of Cambodia, is a dignified performing art form in Cambodia. This dance is renowned for its opulent jewelry and gowns with a pleasingly gentle dance. The Khmer royal family established the Royal Ballet Dance as a priceless artifact to display the great regard of Khmer dancers. Those elegant dancing moves resemble the Devas (Gods) Dance from the ancient Ramayana poetry.
The "Robam Choun Por" (Blessing Dance) and the "Robam Tep Apsara" are two of the most often performed classical dances (Apsara dance).
General Characteristics of Robam Chuon Por (Blessing Dance)
For ceremonial occasions, Robam Jun Por (Blessing Dance) is a piece of art cultivated by Queen Sisowath Kosamak Nearyrath. The dance is meant to welcome and convey blessings and well wishes to the visitors//distinguished guests.
Visitors coming to the kingdom should be treated with the utmost respect and courtesy by the people of Cambodia. In a general sense, Khmer people seek to depict themselves as kind, courteous, and sincere, and they want to enrich friendships and work toward unity.
Early on, the Kings and their royal visitors used to perform this art to rid wickedness and sanctify it. In other words, the blessing dance was initially performed in Cambodian royal palaces to ward off evil spirits and bestow blessings on the Royal Kingdom.
Today, there are several occasions when Robam Jun Por, or Blessing Dance from the Cambodian Classical Ballet repertory, is performed. The dance is used to worship various formal occasions like weddings, and opening ceremonies and welcomes travelers from all over the world.
When a group of young Khmer ladies (3, 5, or 7 persons) in traditional Cambodian ballet costumes performs this dance as "Devata" (angels), they want to bring luck, contentment, and good fortune to the audience by blessing them with their presence.
The dancers' golden goblets are filled with fragrant flowers (mostly Jasmine, Lotus, or Romdoul) while performing exquisite and graceful dances. A gentle rain of blessings from God falls on the audience, metaphorically represented by the blooms that gently cover the crowd.
The Irreplaceable Khmer Classical Dance Attires
In Khmer classical dance, the costumes are exceedingly ornate. Metallic thread "Sarong" is used to create a band that is folded in the front and fastened with a gold or brass belt in the "Sampot Sarabap" style. An embroidered shawl-like garment is draped over the dancers' left shoulders.
Bright and golden pieces of jewelry such as necklaces, bracelets, ankle and wrist bangles, an upper arm cuff on the right arm, and other forms of body chains are all included.
Highly dignified crowns (Mokot Ksatrey) indicate a character's rank, and there are various varieties. A flowery tassel affixed to the left side of the crown and a rose placed over the right ear are just two of the many floral accents seen in Apsara costumes.
All that said, if you have a chance to visit Cambodia, you should never miss attending Cambodian classical dance performances to show your appreciation and support for a magnificent ancient art form that was on the verge of extinction.
Presently, some Cambodian living art organizations founded by a group of strong-willed Cambodian artists aim to preserve a remarkable legacy and create a sustainable culture in which Cambodian arts may positively impact people and communities in the long run.
---
Gallery
---
Category
---