Lakhaon Bassac
Khmer visual art forms have different names. Some forms have taken names from any musical instrument or musical orchestra such as Yike theatre or Mahori theater, etc. But, other forms have taken over the name of the most popular artist such as Yike theater.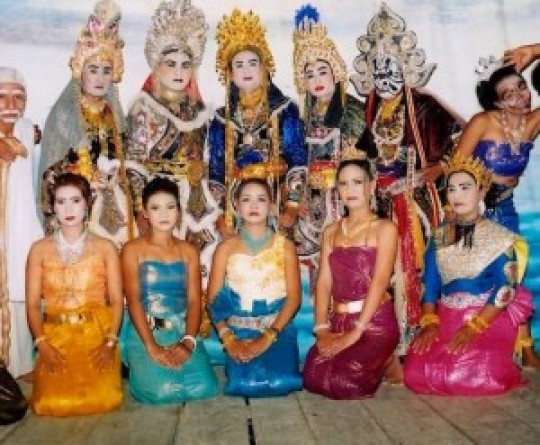 Lakhaon Bassac is no different than many other forms, but has taken its name from the place of the art form gas progressed: Lakhaon Bassac is originated in Bassac district, Khleang province in front of Preah Trapeang province, Cochinchine or Kampuchea Krom. The Kampuchea Krom territory was invaded by French colonist to Vietnam on 21 May 1949. Now is the Southern part of the today's Socialist Republic of Vietnam. Bassac is the name of a river, one of the four branches of the Mekong River that intersects Phnom Penh "Chatomuk". The river flows southward into the Gulf of South China Sea and on the river bank, which is the location of Bassac district, Khleang Province, in front of Preah Trapeang province, where the opera house was born. This area, as well as other areas, has a lot of Khmer people living in the area of civilization and heritage of Khmer culture from many ancient Khmer such as temples, ancient ponds, pagodas, number of musical theaters other types of theaters such as Yi Ke and Lakhaon Yak, etc.
According to information obtained today, the opera is derived from the Lakhaon Trerng Khlouk and has grown by a group of intellectuals who have a rich knowledge of literature and religion under the supervision of the former head of monk of Wat Khsach Kandal "Bassac Preah Tror Peang" Khmer Kampuchea Krom, called Lok Kru Suo. The overview history is as follow:
After leave the monkhood. The purpose of preserving and promoting the national culture's values, teacher "Suo", also invited other leaving's monkhood named "Bondit", other students and many other Buddhist followers developed a theater. But at the time, there was lack of musical instruments and opera stage that is why the opera was performed on the ground in a shade-shaped ornamented with tree brands and tree leaves, which similar to a climbing plant called "Trerng Khlouk", so local people called the opera that "Lakhaon Trerng Khlouk". This opera was present until 1953 or later at the outskirt of Phnom Penh and the countryside.
Some people prefer the so-called this opera as "Yu Ke". The term "Yu Ke" is a valuable term for the fact that this art form is a long-term heritage of the Cambodian people. This name was used by the Khmer Kampuchea Krom brothers until today to identify the kind of theatre that Khmer people in Cambodia today are commonly called Bassac theater.
The opera (Lakhaon Bassac or Lakhaon Trerng Khlouk) have quickly improved their popularity, as performers are brilliant at literature, poetically speaking, unplanned performance, which is why the audiences are admired and loved. In addition, the opera has become an object of completion with the "Kai Leoung-Vietnam" theatre and has had an impact on each other. Later, in the presence of a large Chinese refugees from the war in China, particularly during Manchu revolution, came to the coast and came to settle in the Cochinchine, then living in harmony with the Khmer people and Vietnamese.
At the time of the flow, the Chinese brought with them the customary traditions and arts such as "Lakhaon He". All the three theater from Cambodia, Vietnam and China, compete and try to influence each other in order to achieve their popularity and passion from the audiences in the region. In the end, Chinese theaters were a huge success. Seeing this reason to claim popularity among multi-national audiences, leaders of Khmer theater (Lakhaon Trerng Khlouk) have imitated some of the main features of Chinese theater to apply in their own theater. Since then, Khmer theater has gained immense popularity in the Cochinchine region. Because of both leader and performers are intelligent, wherever there are the Khmer audience, most of them often perform in the Khmer language. Wherever the Vietnamese people watch a lot, the performances are performing in bilingual Khmer and Vietnamese. Where Chinese people are watching, they often speak and sing in Khmer and Chinese, and adapt to geographical areas and local people in the areas.
For the history of Lakhaon Trerng Khlouk or Yu Ke is an inheritance originated in Kampuchea Krom and renamed to the Lakhaon Bassac in Cambodia, today. We have the following story:
During the 1920s, there were two brothers name: elder brother named Ly Kanh and his younger brother named Ly Saun, were born in Bassac, Kampuchea Krom. Ly Kanh has left his home twon to live in France. Later, with the effort to find a good fortune, he became a wealthy people in France. One day, Ly Saun is sending a letter to visit his brother and asks for some money from his brother to do business in his hometown. Ly Kanh, in his heart as a brother with his nostalgia and his spirit of preserving his colorful national culture in a multinational environment, wrote a letter saying, "Do not do any business for the money that I sent to you, please think how to extend and maintain the Lakhaon Trerng Khlouk or Yu Ke that we have watched together often since the very young age".
With the help and support of his brother, Ly Saun also became the first famous director of Bassace theater, where his audience called his name "Cha Kroun". In the 1930s, as this form of art progress in Kampuchea Krom, "South Vietnam", theater director Mr. Cha Kroun brought his troupe to perform in Phnom Penh and other provinces in Cambodia. The first mission of the troupe lead by Mr. Cha Kroun in Cambodia, has been less successful due to this art form is to compete with other art forms of central Cambodia, such as lakhaon Bra Mouy Teay (1920-1940) and the long-awaited theatre called "Lakhaon Mahori". Although the first time of the performance has been lost, but the artists had learned and absorb some new knowledge from some theatre in Phnom Penh such Mahori music and song, before returning home.
After practicing and performing on several occasions by adding some new techniques, this theater (Lakhaon Trerng Khlouk or Yu Ke) has gained tremendous success in the Cochinchine. After that, Mr. Cha Kroun also brought his team by boat (Pot Jai) with the installation of the stage and other decorative materials, to perform in Phnom Penh and other provinces for the second time. The stage of his theater is called the mobile stage, which can install on the ground or on the boat. This time, Mr. Cha Kroun has achieved great success in contesting with other theatres in Phnom Penh and other areas of Cambodia, especially provinces located along the river bank. His theatre has attracted a lot of viewers and has made other theaters fail into a serious crisis with loss of popularity and number of audience steadily decreased. By the mean of using new quick acting, energetically, decorative stage, costumes, make-up style (sometime influence from Chinese theater called Hee), subtle exceptional flying skill, tonal skill both speaking and singing in soft tones and words with meaningful content, and because of most of the performers are well-versed in literature and religious that make the audiences in central Cambodia seriously addicted until they called or named the theater as "Lakhaon Bassac" by taking the place where this theater is grown to give it a name. Since that time, Lakhaon Trerng Khlouk or Yu Ke changed the name to Lakhaon Bassac what we call today.
By economic reasons in purpose to take their art form to be business, many owners of theatre in Phnom Penh find the way to make Mr. Cha Kroun's theatre falling into a recession by engaging some money to odds for talented artists and teachers in the object to break them away from Mr. Cha Kroun troupe for bringing knowledge of performance to their own team. Mr. Cha Kroun's theatre has experienced a great deal of crisis, because of some teachers like Lok Kru Khla Lok Kru Khmao and other friends who have left Mr. Cha Kroun's theater and come to provide training of both music, singing, and unexpected performances to other groups. From 1937 in Phnom Penh, there are many groups and Lakhaon Bassac theatres, such as a theatre near Kab Kor market. In the west of this theatre but not far, there is a theatre built from wooden where they preferred call Wooden theatre. And the second theatre in the west, there is a theatre built from concrete where they called Spean Kon Kat theatre or Stone Theatre (where is the Independence Monument today), led by Ms. Malis La. Another theatre located in the south corner of the Royal Palace where they mostly called Soi Sang Vean theatre. Another one named "Psar Soun Jas theatre or Kleoung Theatre" located in front of Wat Botum Vatey. Psar Sileb theatre that led by one consort of king Sisowath Monivong, is Nak M'neang Khun Preah Mea Neang Bupha Norak Leak Yin Tat. Other theatre located at Ta Khmao, Kandal province. After that, there are many other venues such as Kilo 6, Toul Tum Pong theatre located in the north corner of Toul Tum Pong pagoda nowadays, Toul Kok theatre, Bak Sreng theatre, Mrs. Ung Vang theater (near Chenla theatre today), Psar Depo theatre, Kim Seoung theatre (located at the west of Kandal market), and Kim Phong theatre located at southwest of Central Market where also perform occasionally. Since then, Lakhon Bassac theatre has been extremely popular in Cambodia by performing activities everywhere, and some groups have come to settle in provinces and districts, and to teach and build a variety of groups in different places.
The above story of the Lakhaon Bassac theatre that we received from some old teachers and friends in the southern part of Vietnam today with a few documents left over. We believe that this history has not been accurate and detailed yet, but it may, however, be a basis for some consideration of researchers, theatre learners, and literature lovers, people who love Cambodian culture art.
---
Gallery
---
Category
---