Lakhaon Poul Srei (Female Masked Theatre)
Lakhaon Poul Srei is the female version of Lakhaon Khaol (classical male masked theater), which literally translates as 'female narration'. Both forms combine classical theater and dance and are accompanied by the traditional pin peat orchestra. Unlike Lakhaon Khaol, which use a separate group of narrators, Lakhaon Poul Srei dancers take turns narrating while other members continue to dance. The dancers often lift their masks and narrate directly to the audience.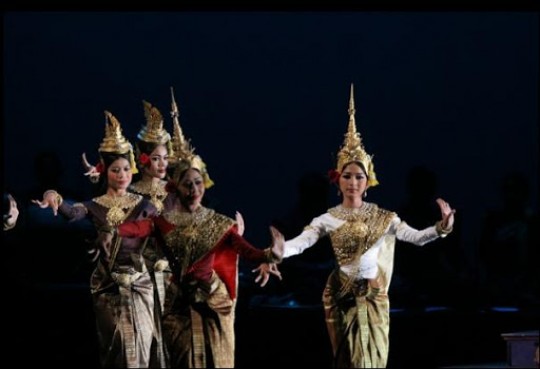 Lakhaon Poul Srei is believed to have originated from the Kingdom of Udong between 1618-1628 (17th century) during the reign of King Preah Bat Chey Chetha II. In 1878, Ms. Chinh, a great art teacher from Koh Oknheatey, came to teach Lakhaon Poul Srei in Vat Keansvay Krao. Today, one of her students, a 70-year-old woman, Ms. Chea Samut, has taken a lead role in reviving Lakhaon Poul Srei and currently teaches this drama form to students at Wat Keansvay Krao, after having disappeared for more than 40 years.
---
Gallery
---
Category
---
Reference
- MCFA & UNESCO (2004). Inventory of Intangible Cultural Heritage of Cambodia: A joint publication of the Ministry of Culture and Fine Arts and UNESCO. Cambodia: JSRC Printing House.
---