Khmer New Year
Khmer New Year or Choul Chnam Thmey, literally "Enter New Year" is a national holiday that people in Cambodia always celebrate every year. In the Khmer New Year, there are the following arrangements: The Khmer New Year festival takes place for 3 days, on the 13th, 14th, or 15th of April, because it is the season when the Cambodian people have free time from harvesting rice and other agricultural crops.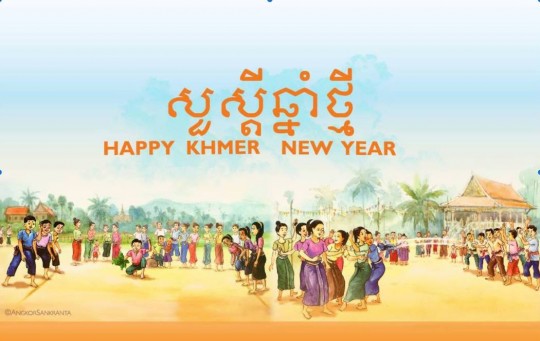 Introduction to Khmer New year
A day or two days before the New Year, Cambodians often clean, decorate their homes, and prepare for the New Year. On the first day of the Khmer New Year, which in the Khmer tradition is called Sankranti or in Khmer Moha Sangkrant. On the first day, Cambodian Buddhists set up a New Year's reception with various ornaments and colorful lights in their homes. Items include a bowl of water with flowers (normally jasmine), 5 candles, 5 incense sticks, flowers, beverages, and cakes, fruits, etc. They will then make offerings by lighting incense and candles in their homes at the appointed time that the angels of the new year come down to bless them with happiness and peace throughout the year.
On the second day of the Khmer New Year, which is called Virak Vanabat, people go to the pagoda to bring food, cakes, and fruits to the monks. In addition, People contribute charity to the less fortunate by helping the poor, servants, homeless, and low-income families. Families attend a dedication ceremony to their ancestors at monasteries. Moreover, there are also traditional games such as: throwing a box, throwing a hat, hiding a towel, and singing and dancing traditional songs at pagodas and other areas in Cambodia. (you can refer to the Games and Folk Dance in our page)
The third day is the end of the New Year, called the Virak Loeng Sak. On that day, Buddhists wash the Buddha statues and their elders with perfumed water. Bathing the Buddha images are a symbolic practice to wash bad actions away like water clean dirt from household items. It is also thought to be a kind deed that will bring longevity, good luck, happiness, and prosperity in life. By washing their grandparents and parents, the children can obtain from them best wishes and good pieces of advice to live the life for the rest of the year, and it is also the last day of the celebration of the Khmer New Year.
---
Gallery
---
Category
---