The Surprising Facts About Cambodian Chhoung Game
"Chol Chhoung", known as "Chhoung", is one of the most famous Khmer folk games. This game can ignite all players' joy, bonding, and fascination. Moreover, this is the type of Khmer throwing game that everyone, especially teens and young adults, plays at the pagoda during Khmer New Year in April.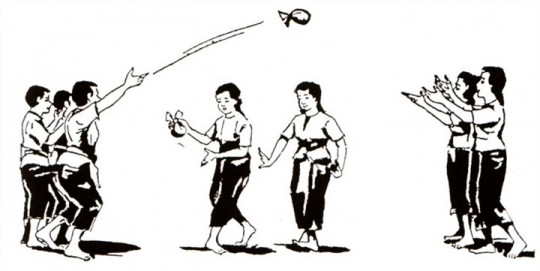 Cambodia is rich in amusements, one of which is Khmer new year fun games. The locals celebrate and play these games on different occasions, especially during the national holiday such as Khmer New Year, which usually appears on 13 or 14, 15, and 16 April. This day symbolizes the conclusion of the country's harvesting season. That is when all farmers can reap the fruitfulness of their hard work before the wet monsoon arrives.
During the holiday, all roadsides are frequently thronged with people taking a break from their daily busy routines and using their precious time to gather, party, sing, dance, and play Khmer folk games. People of all ages can enjoy playing these folk-friendly games, making their holidays memorable. In one word, Cambodian folk games are beneficial in maintaining one's emotional, physical, and cultural agility.
What Is Chhoung or Khmer Throwing Game?
"Chol Chhoung", known as "Chhoung", is one of the most famous Khmer folk games. This game can ignite all players' joy, bonding, and fascination. Moreover, this is the type of Khmer throwing game that everyone, especially teens and young adults, plays at the pagoda during Khmer New Year in April.
To play this game, participants need to prepare a few items. First, they need to get Chhoung ready. Chhoung is made of a Krama, or a scarf rolled up, fastened, and knotted securely at one part to form a short tail for throwing it back and forth between the players.
After that, players are separated into two groups, one girl and one boy, one with the Chhoung and another without. Each group has 10 to 20 people. They stand in two rows facing each other. Each one is around 8 to 10 meters long.
The fundamental game rule is that the throwing team will grab the tail of the Chhoung to hurl it up in a high arch to the other team. If a player catches Chhoung, they will throw it back, attempting to hit a member of the confronting team. But, if any player fails to catch it, their whole team must sing and dance while returning the Chhoung to the winning team.
How To Play The Chhoung Game?
Traditional songs and dances are performed in some versions of the Chhoung game. On top of that, players are allowed to make their song lyrics as a way to taunt each other and have some fun. Sing-and-dance and free-your-partner are two common versions.
Sing and Dance Version
When a member of the boy group throws Chhoung or Krama ball high into the air, the game is officially underway. Hence, the girl team must catch Chhoung at the other end of the field before it strikes the ground.
The Krama ball will be returned to the boys' team as soon as a girl on the girls' team has caught it. This is done to strike the specific boy in whom the girl is interested. That means whenever a member of the other side can grab Chhoung; they must toss it back and aim it towards a girl or guy they are interested in.
The best part is, for example, when one of the boys is smacked by the Chhoung, he is eliminated from the game. Then, the singing and dancing moment appears. The boys' team must sing and dance to return the Chhoung to the girls' team. The process is vice versa. In the end, the winner is the team that can maintain more members after certain playing rounds.
Here is the classic "Choal Chhoung" song by Cambodian legendary singers, Sin Sisamuth and Ros Sereysothea:
Girl: I toss Chhoung; Chhoung is divided into five pieces. Here comes Khmer New Year; we are entering a new age.
Boy: I toss Chhoung; Chhoung is flying up the sky, but it cannot escape. It still falls for you, my dearest.
Girl: I toss Chhoung; Chhoung reaches coconut-tree height. All the girls are standing to give you Areca palm.
Boy: I toss Chhoung; Chhoung is running up high. I saw a beautiful young girl receiving my Chhoung.
The song does not limit to these lyrics. In reality, the signing and wording of the Chhoung song vary according to the wisdom of the local singers who compose it.
Free Your Team Version
In this version, the Chhoung is used similarly in the sing-and-dance form, except that when the Chhoung hits a team member, the other side will seize that person immediately. Sometimes the detainees are presented as guards to protect themselves from being smacked by Chhoung tossed from the other side!
The truth is these conventional and mesmerizing games are continually evolving. Among the activities that this game incorporates are eye exercises, hand-paddling movement, and excitement of cheering, singing, and dancing.
Do Cambodians Still Play Khmer New Year Games?
It is important to note that the Khmer new year game, including Chhoung, appears to be fading from Cambodian society at some point. Compared to modern dancing concerts, the acknowledgment of those Khmer folk games does not appear to be as extensive or complete.
For this reason, officials and youth organizations alike should arrange traditional Khmer games in public locations, particularly on media, to commemorate the traditional New Year to another level. It takes a whole nation to keep this tradition alive to not go away over time. However, if these games are not played or promoted regularly, they will soon be forgotten.
How Do Cambodians Preserve The Khmer New Year Fun Game?
If Cambodians want to preserve Khmer new year fun games, such as the Chhoung game, for future generations to celebrate, appropriate and supportive acts from authorities, organizations, and relevant parties are required. For example, the organization of traditional games during the Khmer New Year in any institutions, both small and big, private or public, residential or none, should be strongly encouraged to participate in Khmer folk games. Massive resources are ready to be used. There are public sites, resorts, and pagodas all around the nation to celebrate Khmer traditional games.
Khmer folk games come in more than 20 forms, and they are beneficial in building togetherness, having fun, being healthy, having physical strength, and having a strong spirit. More than that, they are also a part of the Khmer identity that has survived from ancient times.
---
Gallery
---
Category
---
Reference
a. ក្រុមជំនុំទំនៀមទំលាប់ (ចាប ពិន, ពេជ្រ សល់, លី ធាមតេង, ស្តើង ធូរ, ចាប នូ៖ជាងគំនូរ)
១៩៦៤, ល្បែងប្រជាប្រិយខ្មែរ, ល្បែងឈូង, ទំព័រទី០៤-០៧, ការផ្សាយរបស់ពុទ្ធសាសនបណ្ឌិត្យ, ភ្នំពេញ
b. Sam, S. A. & Campbell, P. S. (1991) Silent Temples, Songful Hearts: Traditional Music of Cambodia, pg. 70
c. I. (2019, April 14). Khmer New Year in Cambodia: The most attractive and traditional games. Visit Angkor. Retrieved April 10, 2022, from https://www.visit-angkor.org/blog/khmer-new-year-cambodia-traditional-games/
---