Banteay Srei Temple-the nearby temple of Angkor Area
Banteay Srei temple is a 10th-century Cambodian temple dedicated to the Hindu god Shiva. Located in the area of Angkor, it lies near the hill of Phnom Dei, 25 km (16 miles) north-east of the main group of temples that once belonged to the medieval capitals of Yasodharapura and Angkor Thom. Banteay Srei is built largely of red sandstone, a medium that lends itself to the elaborate decorative wall carvings which are still observable today. When it is under the sunlight, it appears like a pink temple.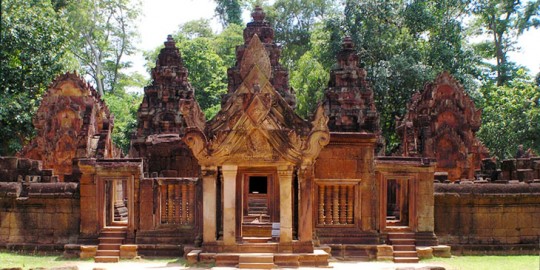 The buildings themselves are miniature in scale, unusually so when measured by the standards of Angkorian construction. These factors have made the temple extremely popular with tourists, and have led to its being widely praised as a "precious gem", or the "jewel of Khmer art.
Banteay Srei Temple At A Glance
Temple name: Banteay Srei

Constructed in: in late 10th century, around 967 AD

Built by: King Rajendravarman II from 944 AD to 968 AD and Jayavarman V from 968 AD 1001 AD

Dedicated to: God Shiva, Hindu religion

Located: 25 km northeast of a group of temples.
Background of Banteay Srei Temple
The lovely Banteay Srei Temple is almost accepted to be the best tourist destination. However, this temple's exceptional level of preservation, together with its little stature and exquisitely crafted decorations, contribute significantly to the unique attraction that it emits. Many French archaeologists who have been in Cambodia all appreciate Banteay Srei as a jewel in Khmer art or a gem.
Furthermore, as shown by the inscriptions, this place was once reputed as Isvarapura (Banteay Srei). Brahmin, a spiritual teacher of Jayavarman V, is from a royal family that wrote the inscription. Numerous people describe the Banteay Srei temple as a representation of Indian models because the temple was built and decorated uniquely from other temples during the era.
How Banteay Srei Was Constructed
Banteay Srei temple, the citadel of women, is an exquisite miniature, a fairy palace in the heart of an immense and mysterious forest. Consecrated on 22 April 967 A.D, Banteay Srei was speculated to have been known earlier as Banteay Serai, which literally means the Citadel of Victory.
This was the only major temple of Angkor not built by a monarch; its construction is credited to a courtier named Yajnavaraha, who was a scholar and philanthropist and a counselor to king Rajendravarman. He was known to have helped those who suffered from illness, injustice, or poverty.
Banteay Srei or Citadel of Women is probably related to the intricacy of the bas-relief carvings of devatas found on the walls and the tiny dimensions of the buildings themselves.
Reconstruction
Banteay Srei was founded in 1914. However, André Malraux was responsible for the most famous incident of stolen art in history after taking four devatas from the temple in 1923.
Unluckily, he was caught shortly afterward, and the devatas were given back. Only a year after this tragedy, the area became a focus of attention. Later on, Banteay Srei was reconstructed using anastylosis in the 1930s.
Architecture
The temple entrance is located at the beginning of a road. Then it is followed by the three separate enclosures. On top of that, the temple's face turns on the east side. Moreover, Banteay Srei has its nickname called the pink temple.
This color is from a reddish sandstone, which is soft and carvable. This explains why the edifice is covered with a plethora of decorations. On the other hand, the most complex sculptures are found in the internal enclosure, which accommodates a shrine and two libraries.
What Can You See When You Visit​ ​​​​Banteay Srei?
An axis running east-west through the site's center has been used to build three concentric rectangular enclosures. In addition, an external gopura, also known as a gate, may be reached by means of a road that is placed on the axis and connects to the final and most distant of the fences.
Meanwhile, inside the internal enclosure are the shelter, which is made up of an entry hall and three towers.
When is The Best Time To Visit The Temple?
Early morning or late afternoon are the best times to visit Banteay Srei. The location receives very little cover throughout the day and is highly exposed to the sun.
There aren't as many passageways as at Bayon and Angkor Wat; Banteay Srei does not have many shadows from the temple's walls. Thus visitors hardly find shade to rest. Therefore, it's better to go while it's colder outside, so you can capture the golden temple in all its glory as the light shifts throughout the day.
When And Where is Banteay Srei Located?
It is slightly over 20 kilometers from the great Angkor complex and around 30 kilometers from the city of Siem Reap to Banteay Srei. You will have to take a 30-minute Tuk Tuk ride through villages and rice fields to get there.
Taxis and bicycles are viable modes of transportation for getting to and from this location. As you get to the temple, you will pass by the excellent Landmine Museum, an educational center and non-governmental organization specializing in relief efforts for children whose landmines have been afflicted.
How Much is The Entrance Fee?
The main Angkor complex temple permit includes admission to Banteay Srei as well. However, to explore this temple on its own, you will have to pay an additional $37 fee, so it is advisable to plan to see other attractions as well.
On their way back to Siem Reap, many tourists stop at Banteay Srei for part of the day and then go on to one or more of the temples located on the periphery of the main Angkor complex before heading back to the city.
Banteay Samre is a small, often-overlooked temple off the Banteay Srei road. It is an exquisite place to rest from the crowd and enjoy some tranquillity from the hustle and bustle of the city.
Banteay Srei temple is one of many ruins situated in nearby the Angkor area, meaning that this temple is also a part of 401 square kilometers-Heritage of Humanity and World Wonder by UNESCO on 14th December 1992.
---
Gallery
---
Category
---