Bayon Temple
Bayon temple is a well-known and richly decorated Khmer temple at Angkor area in Cambodia. Built in the late 12th or early 13th century as the official state temple of the Mahayana Buddhist King Jayavarman VII, the Bayon stands at the center of Jayavarman's capital, Angkor Thom. Following Jayavarman's death, it was modified and augmented by later Hindu and Theravada Buddhist kings in accordance with their own religious preferences.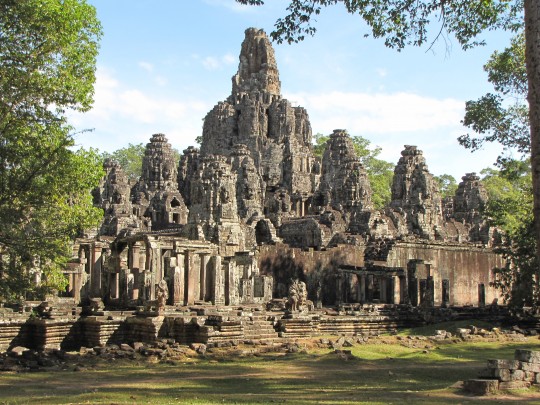 The Bayon temple was the last state temple to be built at Angkor and the only Angkorian temple to be built primarily as Mahayana Buddhist shrine dedicated to the Buddha, though a great number of minor and local deities were also encompassed as representatives of the various districts and cities of the realm. It was the centerpiece of Jayavarman VII's massive program of monumental construction and public works, which also responsible for the walls and naga-bridges of Angkor Thom and the temples of Preah Khan, Ta Prohm, and Banteay Kdei.
The similarity of the 216 gigantic faces on the temple's towers to other statues of the king has led many scholars to the conclusion that the faces are representations of Jayavarman VII himself. Others have said that the faces belong to the bodhisattva of compassion called Avalokitesvara or Lokesvara.
The original name for the Bayon s Jayagiri (or Victory Mountain). After French occupancy, it was later named Banyan Temple due to its religious significance and Buddhist imagery (the Buddha is said to have attained enlightenment under the Banyan tree). When the local Khmer came to work at renovating Banyan temple, there was a mispronunciation in Banyan, which was pronounced Bayon. The name then stuck.
The Bayon's most distinctive feature is the multitude of serene and massive stone faces on the many towers which jut out from the upper terrace and cluster around its central peak. The temple is known also for two impressive sets of bas-reliefs, which present an unusual combination of mythological, historical, and mundane scenes. The current main conservatory body, the Japanese Government Team for the Safeguarding of Angkor (the JSA) has described the temple as "the most striking expression of the baroque style" of Khmer architecture, as contrasted with the classical style of Angkor Wat.
---
Gallery
---
Category
---