The Rolling Rice Paper
Rice Paper in Cambodia is made in Battambang province located northwest of Cambodia. The province is known for the rice bowl of the Kingdom; therefore, the supply of rice is enough for the making of rice paper. Natives of Battambang cook the rice paper by using the steamer which is traditionally made of Cambodian buffalo skin while now villagers only use clothes steamer, where the rice bran is flattering over boiling water. The hard buffalo skin helps to protect the small grains of rice from getting burned.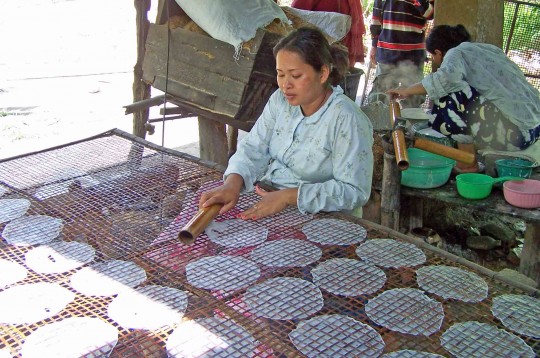 A rice paper wrapper is essential to every Cambodian spring roll (or salad roll) menu. Their ultra-thin rice wrappers can be filled with just about anything. They are so thin that you see what is inside since the wraps are practically translucent. Aside from that, they're a little chewy. Rice paper wrappers are most commonly used to wrap shrimp, pork, fresh veggies, and noodles. However, if you want to use them in other recipes, you may do as you wish.
Khmer chewy snacks like rice paper rolls, which are fast and simple to make, are ideal. They're also great for lunch, snacks, or a quick dinner on the go. However, these rice papers are sometimes questioned as to whether or not they are healthy. So, let's find out the answer here.
Khmer Rice Paper
The Battambang province in Cambodia's northwest produces rice paper. Known as the "rice bowl of the Kingdom," this province has a surplus of rice that can be used to make rice paper.
Rice paper is historically created in Battambang using a handmade steamer made of Cambodian buffalo leather. Nowadays, people use a clothes steamer for cooking rice bran over boiling water. The rice is protected from burning by the buffalo skin's hardness.
Rice flour paste is made by grinding the rice in a wet grinder. While the upper grinding wheel continues to function, a tiny petrol engine drives the bottom grinding wheel. Finally, rice paper is laid out in the sun to dry.
As soon as the rice crepe is finished being dried on the bamboo airing tray in the sun, it's ready to be used for summer rolls (vegetable rolls) or fried spring rolls, two Cambodian delicacies that have long been favored.
The Great Things of Rolling Rice Papers
Rice papers are phenomenal since they don't need to be heated before eating and don't contain any oil or fats. Instead, tapioca starch, water, and salt are the main ingredients in this dish. They can last for up to a week when stored appropriately.
Rice paper rolls are commonly filled with various raw vegetables, rice noodles, or meat, depending on the region and preference. Gluten-free since only rice starch is used in the roll's recipe.
It's possible to keep the calorie count low if you don't overfill the rolls with rice noodles. The types of meats and veggies you choose to stuff inside the rice paper will also greatly impact this.
Diverse-Protein Menu
Most people love to stuff protein sources into rice paper rolls, such as meat or seafood. Instead of beef with greater fat content, go for lower-calorie alternatives such as prawns or shrimp.
The lower gastrointestinal (GI) of rice noodles may improve blood sugar levels. To maintain a healthy body and mind, the substances within are crucial. However, they might not be optimal for a long-term supply of energy.
Veggie-Friendly Meal
The more veggies you include, the more fiber and nutrients you'll receive, and the fewer carbs you'll have.
Combining some green veggies such as basil, mint, or cilantro is important in your recipe because it adds flavor to the rolls and eliminates the need for a deep-flavored dipping sauce loaded with sugar and salt.
Despite their low-fat content, avocado and salmon are also good sources of healthful omega-3 fatty acids, which may be found in rice paper rolls.
A Heart-Healthy Meal
Rice paper rolls may be eaten as a treat or a meal, and they're both tasty and satisfying. The roll has little protein but is low in carbs and fat. However, the roll is high in fiber and provides your body with a wide range of micronutrients from the veggies.
To acquire and preserve a healthy body, it's important to eat a range of meals in the proper quantities and consume healthful food and drink.
As a result, we need to consume the proper amount of energy derived from various foods and beverages to maintain a healthy eating habits.
How Should Rice Paper Be Used?
Sheets of dried rice paper are everywhere in Cambodia's local grocery stores. But, if you are unfamiliar with this menu, you will need to rehydrate them to make them supple again before you can use them. Once it has been rehydrated, rice paper can either be eaten as is, like it is with summer rolls, or fried.
Rice paper is used in the Cambodian kitchen most of the time to make fresh rolls, which is one of the nation's favorite ways to use it. When fried, rice paper takes on a texture that is simultaneously airy and very crunchy.
Here Is The Top-Rated Refreshing Recipe For Spring Rolls Prepared in the Cambodian Style
The fresh herbs, shrimp, mildly spicy heat, and crunchy lettuce all work together to create a flavor and textural profile that is perfectly harmonious.
Ingredient You Need To Have:
Rice Paper Rolls: Rice paper sheets; Filtered water; Fresh shrimp; Uncooked rice noodles (if you can get cooked rice noodles, the process would be a lot faster); Sliced cucumber; Fresh basil, mint, and lettuce.
Dipping Sauce: Water; Fish sauce; Sugar; Fresh lime juice; Chopped fresh cilantro; Minced peeled fresh ginger, garlic, and chili; Roasted peanuts; Chili paste (optional).
Instructions You Should Follow:
1. In a large saucepan, bring the water to a boil. Cook the shrimp for 3 minutes. Then, drain and rinse with cold water. Lastly, peel their skin and let the shrimp chill for a while.
2. Place the noodles in a large mixing bowl and pour the boiling water in. Allow the noodles to stand for 8 minutes before draining.
3. Get a big and deep bowl filled with cold water. Soak each sheet of rice paper in water and allow it to stand until soft. Place a sheet of rice paper on a flat surface.
4. In the middle of each rice paper sheet, top with cooked rice noodles, lettuce, basil, mint, cucumber, and shrimp. Fold the edges of the sheet over the filling, wrap up jelly-roll style, and gently press the seam to seal.
5. Place the roll on a serving platter, and cover to prevent drying.
6. Repeat the rest of the rice paper with the remaining ingredient as much as you like.
7. Mix the fish sauce, water, and other mentioned ingredients into a shallow dish to make the dipping sauce. The ideal flavor should be sweet, sour, and spicy. However, add or subtract any ingredients to achieve your preferred flavor.
---
Gallery
---
Category
---