Nem
Nem is one of the well-known Khmer delicacies made of raw spiced fish wrapped up in Banana leaves usually eaten as a snack or after meals. It is totally distinct from Vietnamese made Nem (known as "Chi Yor" among Cambodian).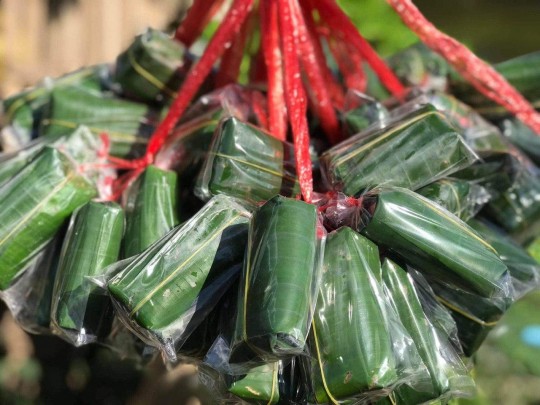 When it comes to Nem, Battambang province instantly comes to mind of the locals as its popular for producing delicious Nems. It's the main ingredient is minced fish meat mixed with a variety of herbs such as star gooseberry leaves locally-called Sleok kantout srok; rorlous bai, a vine with an edible tuberous root leaves; sleok chaplu, a kind of vegetable with betel-shaped leaves and are wrapped into small parcels of banana leaves or plastic purse. Toasted rice, ginger, chilies, sugar, salt, and seasoning are added to make it tastier.
As you approach Battambang province along National Road No.5 parcels of Nem are noticeably seen hanging on the stalls. You can find them displayed in various public places and markets in the province as well. Mrs. Nguon Phally, a 43-year-old from Chrey Kwong Village, and her family have been selling Nem since 1987 to support their daily living. "Nem is a Khmer family favorite, it is also served during weddings and other celebrations", Mrs. Phally said.
Furthermore, Nem made with Chadow fish sold in the local market, are the ones popular in the province. Chadow is skinned and de-boned before it is pounded along with other ingredients turning into a paste. The fish meat is then formed into small balls or rectangular shapes and wrapped in banana leaves or plastic wrappers. A 20 kg of fish can make only about 7kg of Nem-- that is about 3000 individually wrapped nems. The price for 100 pcs. of small parcels of Nem cost 15,000 riels (approximately US$3.53) while 100 pcs. of the bigger ones cost 4,0000 riels (US$10).
In Battambang, the production and sales of Nem are a means of livelihood for most of the families and each has their own unique recipes. However, there is no statistic available yet as to the exact number of people depending on this kind of livelihood. But remember, every purchase you make of Nem from Battambang surely gives income to these families.  
---
Gallery
---
Category
---
Reference
- Kevin (2011, March-April). Nem a Khmer Specialty. Cambodia Tourism Magazine, Issue 07, Volume 02, 44-45
---