Robam Kuos Traloak (Coconut Dance)
Robam Kous Trolaok (Coconut Shell Dance) has been a legacy of the Khmer people for a long time. This traditional folk dance originated in Romeas Hek district in Svay Rieng Province. This Dance is performed during the wedding ceremony (Groom Procession) and other festivals for cheering the atmosphere.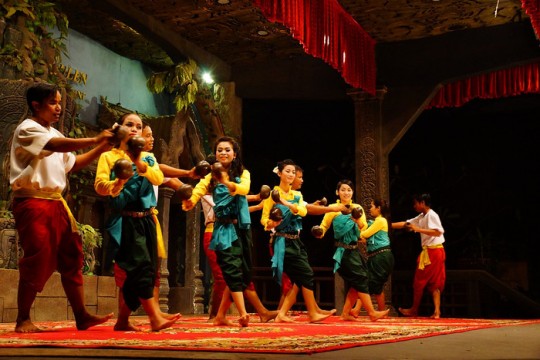 Traditional dancing is an important part of Cambodian culture that no trip to the country would be fulfilled without seeing this performance. Unfortunately, most of this Cambodian art genre was wiped out during the Khmer Rouge regime from 1975 to 1979. Nevertheless, a great deal of work has been put into reviving the ancient art form for the Khmer new generation.
It is noteworthy that dancing in Cambodia is classified into three categories:
1. Classical for the king and his court,
2. Folk for preserving cultural heritage,
3. Social for mingling with friends and family.
Khmer Folk Dances
Compared to traditional Khmer dances, Cambodian folk dances are more cheerful, thrilled, and fast-paced, with less refined gestures and motions. Many ethnic groups have influenced this art style.​ Folk dances are a great way to introduce cultural stories to a broad audience in a joyful and upbeat way. Particular customs and traditions are highlighted in the folk dances, which depict the daily routines and lives of the rural population in the 20th century.
Coconut dancers use costumes that correspond to the type of folks they portray, such as common people, peasants, or members of certain tribes. Khmer folk dance genres are primarily about love storylines and folktales. Moreover, the Mahori orchestra plays in the backdrop of most of the stories,
Characteristics of Cambodian Coconut Dance (Robam Kous Traloak)
There has been a lengthy history of the Khmer people's Robam Kous Trolaok (Coconut Shell Dance). People in Cambodia dance after a long day's work in the fields and during special events like Khmer New Year and weddings. Many Cambodians, particularly those who live in rural areas, are deeply attached to their country's traditions, and this dance is no exception. For many people, coconuts are a sign of youth, fertility, and a reminder of the importance of this essential crop in their daily lives.
Villagers in Cambodia enjoy cultivating coconut palms around their homes and harvesting the roots, trunks, leaves, shells, fruit, and nectar from the trees. Because of its usefulness, people in rural regions utilize the coconut shell for domestic things like scoops, measuring cups, and musical instruments.
While laboring in the rice fields, locals often dance and unwind after a long day because of the beautiful sound made by the coconut shells when they are struck together. People in the villages have adopted it as a cherished pastime to tease and stimulate romantic interest in one other in many forms, such as the praying mantis.
Svay Rieng province's Romeas Heak area is where the coconut dance had its start, and it was probably created around 1960. The dance depicts the story of the countryside's love ritual between young men and women.
According to Khmer mythology and art, men and women typically represent water and earth in coconut shells. Traditional Khmer music sounds a lot like the music used at weddings. Cambodians still do the coconut dance the way their predecessors did.
For the Cambodian people, the beginning of a new married life is symbolized by a special type of music played exclusively during weddings. Almost as cheery and lovely is the melody of the coconut dance.
An expert in Khmer wedding music at the Royal University of Fine Arts (RUFA) highlighted the many facets of Khmer ceremonial music as follows. He said, "There are around 133 songs played during weddings. It is crucial for Khmer adults and girls to form a new family and a lasting memory to cherish". Khmer music is performed on the following instruments: "Tror", "Kse Deav", "Chapei Dorng Veng", "Pei Or", "Skor Dei", and "Chhing".
Both men and women participate in the dance, each in a distinctive outfit and coconut dance tool. Female dancers dress in a green silk 'Changkbin,' which resembles a tiered "Sarong", folded in half between the legs to form trousers; meanwhile, a dark red 'Changkbin' and a yellow shirt are the typical attire for men.
National Dance Director from the Royal University of Fine Arts said the university recompiled documentation on traditional dances in 1968 so that future generations would learn about them. Previously, rural folk would do this dancing at nationwide festivities and weddings. The same music is also played to bring the groom to make his way to the bride's residence.
Adding to that, he said Khmer people performed the coconut dance to demonstrate the value of coconuts as a symbol of Khmer property. An undergraduate studying coconut dance cautioned that while everyone can dance, only a master can do it flawlessly.
The student explained that professional dancers must go through the academy for at least two years to perform the coconut dance on stage. It is not a big deal for her to make the complicated move on stage because she has trained before.
Even though it began as a kind of entertainment, the coconut dance has developed into a popular item that is done at nearly every major restaurant in Cambodia and performed on fun occasions like Khmer New Year, Anniversary, and weddings due to its pleasant and cheerful music with naughty but gentle performance. There are normally 5 pairs (can be 3 or 7 pairs) of men and women dressing in traditional villager clothes with a pair of beautifully polished coconut shells for each dancer. Men and Women wear different customs and their colors may vary depending on favors.
What Can You Expect From Khmer Coconut Dance?
Coconut dance was once performed solely for the pleasure of royalty during the Angkor Empire's reign, and many peasants were unaware of its existence.
This folk dance is elegant and sophisticated, and it is widely regarded as a sign of happiness, friendliness, and wealth for the Khmer people, among other things.
This dance is a ritual that Cambodians have traditionally done after a long day's labor on the farms and during important events, such as Khmer New Year's, marriages, and other significant events.
This dance represents youth and fertility, as well as the high regard in which Cambodian people hold the coconut and its benefits. The main crop is grown across the country; the coconut is a celebration of everything this magnificent nut contributes to the country's culture and heritage.
Coconuts connect with various items, including pastries, sweets, and even the creation of ornaments and cutlery from them. It is common in rural regions to utilize the coconut shell to manufacture useful household objects like kitchen utensils and even musical instruments!
Cambodian locals like planting coconut palms around their homes and harvesting the trees' products, including the roots, trunks, leaves, shells, and fruit. The plants also provide a source of income for the villagers.
---
Gallery
---
Category
---
---