Preah Vihea Temple
The Preah Vihear temple is a Khmer temple located spectacularly atop Pey Tadi, slightly east of the midsection of the mountain range of the Dangrek, being in Svay Chrum village, Kan Tout commune, Choam Khsant district, in the Preah Vihear province of northern Cambodia. It is also perched on the edge of a giant cliff, 525-meter (1720 ft) above the Cambodian plain and 625-meter (2051ft) above sea level. Lying out on an 800-meter north-south axis, the Preah Vihear complex has a single imposing approach, leading up through a series of five Gopura (towered entrance pavilions) connected by causeways and 120-meter-long steps. The temple gives its name to Cambodia's Preah Vihear province and is 140km from Angkor Wat; approximately 460 km from Phnom Penh.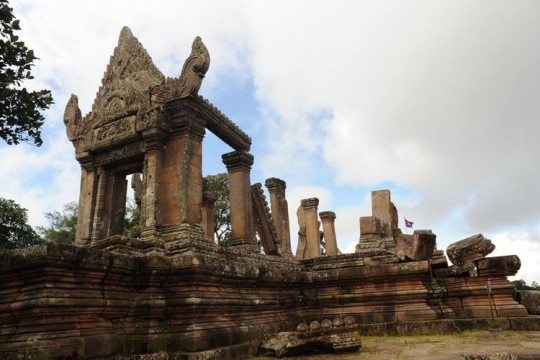 In the 9th century, Khmer King Yasovarman I (889-900) originally began work on the construction of a small sanctuary then named Sekharesvara "Lord of Summit" and dedicated to Shiva. Spiritual development, increased political power, and economic growth were factors that inspired the Khmer kings to the architectural imagination. It took more than 300 years to construct the whole temples during the reigns of subsequent kings-Suryavarman I (1002-1050), Jayavarman VI (1080-1107), and Suryavarman II (1113-1150) in the various structures that merged into a homogenous Hindu universe called the magical home of gods.
In 1904, Siam (Thailand) and the French colonial authorities ruling Cambodia formed a joint commission to demarcate their mutual border to largely follow the watershed line of the Dangrek mountain range, which placed nearly all of Preah Vihear temple on Thailand's side. In 1907, after survey work, French officers drew up a map to show the border's location. Following the withdrawal of French troops from Cambodia in 1954, Thai forces occupied the temple to enforce their claim. Cambodia protested and in 1959 asked the International Court of Justice to rule that the temple and the surrounding land lay in Cambodian territory. The case became a volatile political issue in both countries. Diplomatic relations were severed, and threats of force were voiced by both governments. However, the resulting topographic map, which was sent to Siamese authorities and used in the 1962 (ICJ) ruling, showed the line deviating slightly from the watershed without explanation in the Preah Vihear area, placing all of the temples on the Cambodian side.
On 15 June 1962, the court ruled 9 to 3 that the temple belonged to Cambodia and, by a vote of 7 to 5, that Thailand must return any antiquities such as sculptures that it had removed from the temple. On July 7, 2008, the Preah Vihear temple was officially declared a World Heritage site by UNESCO in Quebec City, Canada. The site of Preah Vihear temple has become a new cultural tourist destination in Cambodia.
---
Gallery
---
Category
---
Reference
- Temple of Preah Vihear (nd). Retrieved from http://whc.unesco.org/en/list/1224
---