Kampong Thom Province
Kampong Thom is a central province of Cambodia that is 168 kilometers from Phnom Penh and 150 kilometers from Siem Reap along National Road 6. Kampong Thom, covering 13,814 square kilometers, borders (from north clockwise) Preah Vihear, Stung Treng, Kratie, Kampong Cham, Kampong Chhnang, Tonle Sap lake, and Siem Reap.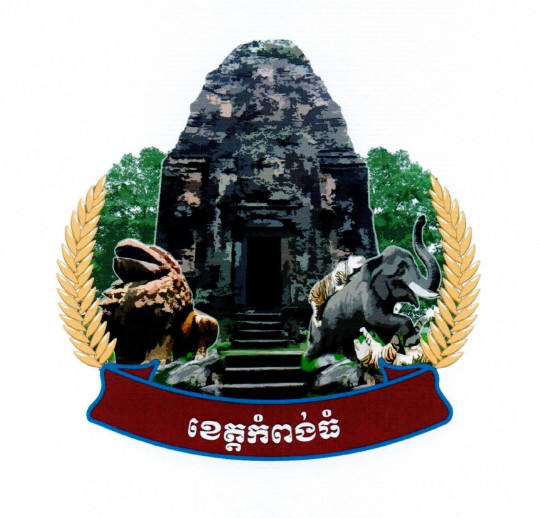 Kampong Thom is divided into 08 administrative districts and 1 municipality, Stung Saen City. With over 700,000 people, the province is Cambodia's second largest area and eleventh most populous. Kampong Thom is a significant province historically, where many historical structures, artifacts, and prehistoric settlements have been discovered including the Group of Prasat Sambo Prei Kuk temples and Prasat Andet temples. Moreover, this province is also home to two of the three core areas in Tonle Sap Biosphere Reserve.
History
The area of Kampong Thom held an important position in early Khmer History (Pre-Angkor Period) from the late Funan (68 to 550 A.D.) to Chenla (550 to 802 A.D.) period. Chenla or Zenla was a former vassal of the Funan Kingdom (Norkor Phnom or the Mountain Kingdom). Later, Chenla progressively gained its supremacy and ultimately proclaimed its independence from having conquered the Funan Kingdom by King Citrasena Mahendravarman in the late 6th century. Historically, the area near the Stung Saen river was the ancient capital of Chenla or the Zenla Kingdom roughly from the late 6th century to the early 7th century, called Isanapura. The name Isanapura literally means "Isana Castle", also appears in Chinese Historical Literature such as The Great Tang Records on the Western Regions, travel and topographical records by a Tang Buddhist monk called Xuanzangs, which contains an indication of Isanapura as one of the six South Sea states signifying that the affluence of Chenla or Zenla Empire extended to foreign countries, and the Book of Sui holds a predominantly descriptive passage and provides an early record of Isanapura in the first half of the 7th century.
The ancient capital of Isanapura, presently known as the Temple Zone of Sambo Prei Kuk-Archaeological Site of Ancient Isanapura which was inscribed in the UNESCO World Heritage Site in 2017, is covered in a vast area of more than 6 kilometers in an East-West direction and 4 kilometers in a North-South direction which contains 7 villages. This archaeological site can be largely divided into two major zones: the western city zone and the eastern temple zone delineated by the O Krou Ke stream. Chinese historical records dealing with Isanapura, Book of Sui, give a more detailed description of the city that there were about 20,000 houses located in and around the city, by way of explanation, an expected population of nearly 100,000 in the early 7th century.
The early name of the presently Kampong Thom province was Kampong Pous Thom. According to the local legend, there was a pair of large snakes who lived inside a cave at a lakeside dock near the Saen river or Stung Saen. The people living around this area usually saw these big snakes every Buddhist Holiday. Time after that, the snakes disappeared, and the people of that area called it Kampong Pos Thom and shortened it to Kampong Thom.
Kampong Thom literally in Khmer means "Great Port or Great Harbor". According to the Dictionary of Samdech Sang Chuon Nath, the word Kampong in Khmer translates as "a place at the waterfront where people go down to bathe and a Port or Harbor to dock the boats", while the term Thom literally in Khmer means "big or grand or large". In addition, the term Kampong is shared in other Southeast Asian languages, the Bahasa Malaysia (Malay) and Indonesian, meaning "Village".
During the French Colony in Cambodia, the French administrated and divided Cambodian territory into provinces, and named most of them according to the spoken words of local people for the respective areas. For instance, Kampong Thom was one of them when it was assigned to be in provincial status in 1907.
There were 12 Governors of Kampong Thom Province from 1979-Present, including:
1. H.E. Ros Chhun (ឯកឧត្តម រស់ ឈុន) 1979-1982
2. H.E. Ngoun Nhil (ឯកឧត្តម ងួន ញិល) 1982-1984
3. H.E. Sou Han (ឯកឧត្តម សូ ហាន់) 1984-1985
4. H.E. Khiev Horl (ឯកឧត្តម ខៀល ហ៊ល) 1985-1988
5. H.E. Un Nueng (ឯកឧត្តម អ៊ុន នឹង) 1988-1990
6. H.E. Chieng Um (ឯកឧត្តម ជៀង អំ) 1990-1998
7. H.E. Nou Phoueng (ឯកឧត្តម នូ ភឿង) 1998-2003
8. H.E. Naim Tum (ឯកឧត្តម ណាំ ទុំ) 2003-2009
9. H.E. Chhun Chhoan (ឯកឧត្តម ឈុនឈន់) 2009-2013
10. H.E. Uth Sam An (ឯកឧត្តម អ៊ុត សំអន) 2013-2016
11. H.E. Sok Lu (ឯកឧត្តម សុក លូ) 2016-2019
12. H.E. Ngoun Ratanak (ឯកឧត្តម ងួន រតនៈ) 2019-Present
Geography
Kampong Thom is one of five provinces that shared a border with the Great Lake (Tonle Sap Lake). The area of the province is divided into two parts: The Eastern part and the Western part of National Road 6. The Eastern part covers about 70% surface comprising forests and plateaus that are lavish in natural resources for good and profitable agriculture, forestry, and animal husbandry. The Western part, on the other hand, covers 30% of the surface comprising the flood-plain area extending to the Great Lake which is one of the finest areas in the Kingdom for rice cultivation and fishing to sustain the needs of the province and export to other areas or abroad. Moreover, the province is homed to two of the three core areas in Tonle Sap Biosphere Reserve such as Boeing Chhmar (14,560 hectares) and Stung Saen (6,355 hectares).
Administrative divisions
As of 2020, the province is divided into 1 municipality (Krong) and 08 districts (Srok), 08 Sangkat and 73 communes (Khum), and 765 villages. Stung Saen municipality is the seat of government, commonly known as Krong Stung Saen or Stung Saen City.
1. Stung Saen Municipality (08 Sangkat)
2. Baray District (10 Khum)
3. Kampong Svay District (11 Khum)
4. Ballangk District (7 Khum)
5. Prasat sambour District (5 Khum)
6. Sandan District (9 Khum)
7. Santuk District (10 Khum)
8. Stoung District (13 Khum)
9. Taing Kouk District (8 Khum)
The provincial symbol is declared by the Ministry of Interior via a Prakas No.2107 BrK dated 1 April 2019 on the Establishment of Kampong Thom Province Symbol. In this symbol, there are five images, such as:
- Central Tower of Yeay Poan temple image (Southern Group of Sambo Prei Kuk temple Zone) represents the splendor of Khmer architecture in the 7th century which is located in the Temple Zone of Sambo Prei Kuk, Kampong Thom province, and the ancient Khmer belief in Hinduism.
- Lion Statue image (from the Lion Temple of Sambo Prei Kuk Temple Zone) symbolizes the Greatest of Khmer art in the late Chenla period and embodies the mighty power to protect against all evil, as the lion is the King of mammals.
-Tiger-Elephant fighting image signifies the Kampong Thom province that dates back to the 1960s and reflects the realities of its natural resources and also represents the scene in the epic poem of Reamker (Khmer Version of Ramayana).
- Rice Husk image represents the richness and prosperity of the agricultural sector, especially the yield of rice in Kampong Thom.
- Trees represent the growth of the agro-industry which the province is rich in fertile land and in favor of agricultural and agro-industrial crops.
While the ribbon below has the written letters of Kampong Thom with a dark red background representing the color of culture to show that Kampong Thom is a province of culture as well.
Accessibility
- Road: The main road through Kampong Thom is National Road 6, which starts in Phnom Penh (168 kilometers). Travelers can access the province via National Road 6 from Siem Reap (150 kilometers) as well.
- Waterway: Kampong Thom can access by river cruise from Phnom Penh via Tonle Sap river and Tonle Sap lake. However, it is not so popular among travelers both local and international.
Tourism
Today, Kampong Thom is also an important tourist destination in Cambodia because it is home to the Temple Zone of Sambo Prei Kuk-Archaeological Site of Ancient Isanapura which is inscribed in the UNESCO World Heritage Site in 2017, and Prasat Andet temples. Moreover, this province is also home to two of the three core areas in Tonle Sap Biosphere Reserve (a UNESCO Biosphere Reserve).
---
Gallery
---
Category
---