Koh Ker Temple
Koh Ker Temple in Preah Vihear province is constituted as "one of the marvels of Cambodian monumental heritage" by UNESCO. The temple is located in Srayong commune, Kulen district, Preah Vihear province, about 120 km from Siem Reap.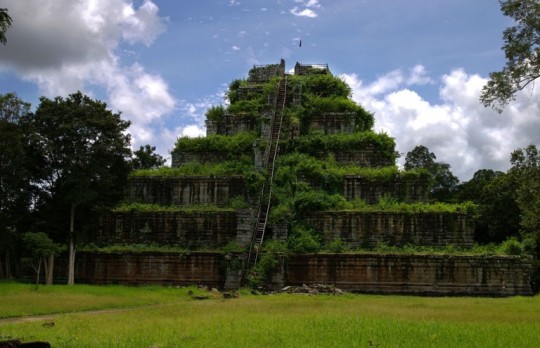 It is a very jungle filled region that is sparsely populated. More than 180 sanctuaries were found in a protected area of 81 square kilometers (31 sq mi). The temple was built during the reign of King Jayavarman IV (928-944) to serve as the Capital city of the Khmer Empire.
In 944, according to UNESCO, Koh Ker was abandoned when the King Rajendravarman moved his capital to today's Angkor. Koh Ker was a cult site where Shiva had been worshipped a long time. Also, Jayavarman IV was an ardent worshipper of this Hindu god. As later kings (whose residence was not in Koh Ker) changed from Hinduism to Buddhism they gave orders to make the necessary adjustments at their temples. Because of its remoteness, fortunately, the sanctuaries at Koh Ker were spared from these interventions.
According to the Ministry of Culture and Fine Arts, the Koh Ker complex currently consists of 86 monuments, although new temples possibly are discovered. Nowadays, Cambodian has three World Heritage sites such as Angkor (which was listed in 1992), Preah Vihear Temple (2008) and the Temple Zone of Sambor Prei Kuk, Archeological Site of Ancient Ishanapura (2017). Furthermore, it also has four areas of culture that are considered intangible cultural heritage.
---
Gallery
---
Category
---
Reference
- Koemsoeun, S. (2018, September 24). Preah Vihear's ancient Koh Ker temple seeks World Heritage Status. The Phnom Penh Post News. Retrieved from https://www.phnompenhpost.com/national/preah-vihears-ancient-koh-ker-temple-seeks-world-heritage-status
---