Koh Ker Temple - The Archeological Site That Will Blow Your Mind
Nowadays, Cambodia has three World Heritage sites such as Angkor (which was listed in 1992), Preah Vihear Temple (2008), and the Temple Zone of Sambor Prei Kuk, Archeological Site of Ancient Ishanapura (2017). Furthermore, it also has five areas of culture that are considered intangible cultural heritage including the Royal Ballet, the Shadow Puppet Theatre, the Tug of War, the Long Neck Lute (Chapei), and the Khmer Male Mask Dance Drama. Koh Ker Temple is the pyramid of the Kingdom of Cambodia.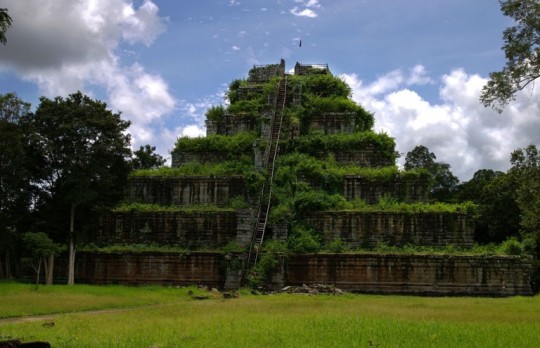 Koh Ker Temple in Preah Vihear province is constituted as "one of the marvels of Cambodian monumental heritage" by UNESCO. The temple is located in Srayong commune, Kulen district, Preah Vihear province, about 120 km from Siem Reap.
It is a very jungle-filled region that is sparsely populated. More than 180 sanctuaries were found in a protected area of 81 square kilometers (31 sq mi). Koh Ker is located between the Kulen and Dangrek mountains and has scenery of rolling hills of varying heights ranging from 70 to 110 meters, making up the Steung Sen River watershed and producing a smooth slope from South to North.
Koh Ker Temple in Ancient Time
Built by King Jayavarman IV (928-944), Koh Keh temple served as the national capital of the Khmer Empire. During his power, the Khmer Empire was at its most stable, allowing for cultural enlightenment. Jayavarman IV was willing to lift out regional, economic, social, and architectural advancement initiatives, urban planning, and rural infrastructure during this harmonized period.
More than that, Koh Ker's art and architecture represent and support Jayavarman IV's political viewpoint, mainly through the employment of a gigantic scale in building and dynamic sculptures, which are both unparalleled among other Khmer legacies.
In 944, according to UNESCO, Koh Ker was abandoned when King Rajendravarman moved his capital to today's Angkor. Koh Ker was a cult site where Shiva had been worshipped for a long time. Also, Jayavarman IV was an ardent worshipper of this Hindu god.
As later kings (whose residence was not in Koh Ker) changed from Hinduism to Buddhism, they gave orders to make the necessary adjustments at their temples. Because of its remoteness, fortunately, the sanctuaries at Koh Ker were spared from these interventions.
Current Condition of Koh Ker Temple
The temple of Kampiang, also known as Koh Ker, may be found approximately 300 meters further to the west. Due to the dense forest around the temple, it seems to be a little hill.
The temple of Koh Ker is 35 meters high above the ground. It comprises seven floors, each roughly 5 meters higher than the next. Each deck includes a 2-meter-wide patio and a 55-step stairway to the top.
Shiva lingam Treypuvanesvara, the god of happiness, is held aloft by garudas at the temple's top. The entrance of the temple faces west, toward Angkor City. A four-square-meter well nearby has been fully surrounded by grass.
Villagers in the area claim that if a coconut is tossed into this well, it would magically reappear in the pond located next to the Neang Khmao temple. There is flora blooming on the temple's top, and visitors may grab a spectacular view of the countryside from that location. In particular, they can see Phnom Tbeng, Phnom Dangrek, and the Kulen district from that vantage point.
Other Temples in Koh Ker Complex
According to the Ministry of Culture and Fine Arts, the Koh Ker complex currently consists of 86 monuments. However, new temples have possibly been discovered, such as Lingam, Damrei Sar, Neang Kmao, and so on.
These structures were not built at close distance to one another. Many of these ancient monuments are either broken or buried in the ground.
Neang Kmao Temple
The walk to the Koh Ker complex is around 3 km long. The first temple, Prasat Neang Khmao, may be found standing on top of a little hill to the east of the path. Despite some deterioration to the lintel sculpture, the temple and about three-quarters of the rampart are still in good form.
Krahom Temple
Krahom temple is around ten meters away; some call it "The red temple." It is a sculpture with a seven-level pyramid made of brick and ornamented with a 20-meter-tall lotus flower sculpture. Shiva's 3-meter-tall statue may be seen with eight arms and four heads within the temple. A base of one square meter provides support for the statue. Only a few sections of the statue remain after it was severely damaged.
Damrei Sar Temple
Damrei Sar temple is situated north of Koh Ker temple but has been extensively destroyed.
Lingam Temple
The Lingam temple is located in the northeast. This temple was home to three Shiva lingams in the past, but some of them have since been damaged.
Ways To Go Koh Ker Temple
You'll need to hire a private taxi to go to Koh Ker. Driving from Siem Reap, you'll see banana and cashew plantations and rice farms on your 2.5-hour journey. You may easily incorporate a journey to Koh Ker and Beng Mealea with the Kulen mountain path.
Koh Ker is a new spot for tourist destinations. Restaurants, drink stalls, and a small variety of market booths offering fresh coconut juices, and you can find handicrafts inside the parking park at Koh Ker. Sadly, the restrooms are not yet available at this location.
When is The Best Time To Visit?
Because trees do not shelter the pyramid and its levels, morning visits provide some break from the sun's sweltering rays. Reap the benefits of the cooler temperatures in Koh Ker first, then go to Beng Mealea just as the major tour groups are finishing their lunch break. This way, you may avoid the crowds at Beng Mealea.
Even at the busiest time of year, you won't find a big number of people here, so you may take your time exploring the location from May to November when it's less crowded.
---
Gallery
---
Category
---