Central Market (Psar Thom Thmei)
The vibrant capital is filled with far more color and culture, and some of the best places to witness the unmatched charm of the city are at its traditional markets. There should be plenty of time to go shopping in many markets. The Pksar Thom Thmei or the Central Market erected in Art Deco in 1930 (1935-1937) is a Phnom Penh landmark.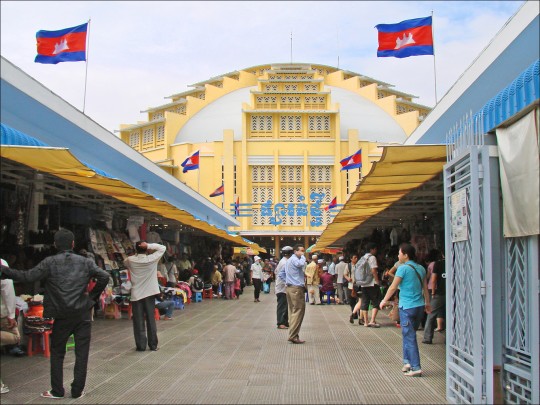 The initial design and layouts are from French architect Louis Chauchon and the construction works were supervised by French architects Jean Desbois and Wladimir Kandaouroff. Before 1935, the area was a lake that received runoff during the rainy season. The lake was drained and construction began in 1935, Since its completion in 1937, wet season flooding around the market has remained a problem and is vestigial evidence of the old lake. During the Franco-Thai war, the market was bombed heavily by Thai aircraft, causing heavy damage, and it had to be temporarily closed. After the end of W.W.II. the market was rebuilt in modern style.
When it first opened in 1937, it was said to be the biggest market in Asia. From 2009 to 2011, it underwent a US$4.2 million renovation funded by the French Development Agency. Presently, it still operates as a market and one of tourists' destination spot during their visitation in Phnom Penh. Its central yellow dome sprouting four wings is chockful of stalls selling clothing, shoes, bags, cosmetics, stationeries, and souvenirs. It is a good place for seeking a large selection of Buddha images, bronze ware, ceramic ware, cotton, folk handicrafts, jewelry, Khmer silks, pewter ware, pottery, precious stones, silverware, wooden carvings, and classical musical instruments.
---
Gallery
---
Category
---
Reference
tourismcambodia.org
---