Bakheng Temple
Phnom Bakheng is a Hindu and Buddhist temple in the form of a temple mountain at Angkor, Siem Reap, Cambodia. The construction of this temple mountain on Phnom Bakheng, the first major temple to be constructed in the Angkor area, marked the move of the capital of the Khmer empire from the capital Hariharalaya in the Roluos area to Angkor in late 9th century A.D.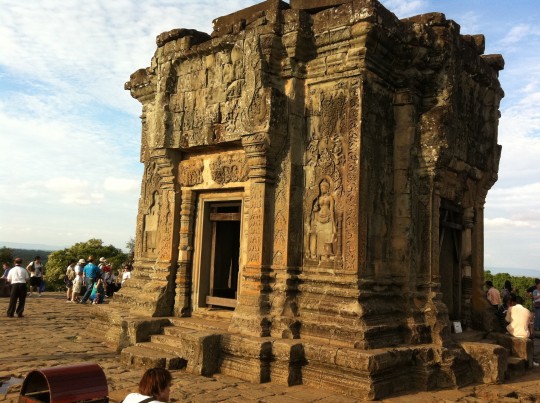 This temple was constructed more than two centuries before Angkor Wat. It served as King Yasovarman I's state-temple at the center of his new capital city Yasodharapura. And, it is a Hindu temple originally built in the form of a temple mountain dedicated to Shiva. The foundation of Bakheng is carved from the existing rock edifice rather than the laterite an earth fill of the most other temples.
Phnom Bakheng is a symbolic representation of Mount Meru, home of the Hindu gods, a statue emphasized by the temple's location atop a steep hill 65 m above the surrounding plain. The temple is built in a pyramid form of seven levels, represent seven heavens. Furthermore, Phnom Bakheng is also featured in the popular movie called Tomb Raider-in the scene which the view of the Angkor Wat from the top of Phnom Bakheng is featured in the movie (when Lara Croft looks through the binoculars upon arriving in Cambodia).
Located atop a hill, making Bakheng nowadays is the most popular tourist spot for sunset views, offering a view of the Tonle Sap Lake and a distance Angkor Wat temple which lies amid the jungle about 1.5 km away. To reach the summit, you have to take a 20 minutes' walk up along the trail or You also could pay for the elephant ride if you want ($20).
---
Gallery
---
Category
---
Reference
MOT (nd). Historical and Cultural Heritage. Phnom Penh, Cambodia: Red Dot Cambodia.
MOT (nd). Angkor Wat: Heritage of Humanity and World Wonder. Phnom Penh, Cambodia.
---