Mondulkiri Province
Mondulkiri is one of the northeastern provinces of Cambodia which is 390 kilometers (The provincial capital is Senmonorom which is located in the southeastern part of the province) from Phnom Penh along National Road 7, 8, 76, and 141.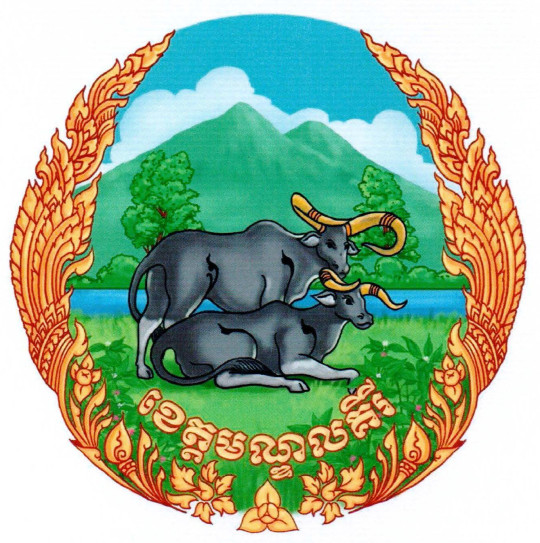 The province has an area of 14,288 kilomter squares, bordering on the west by Kratie province, on the northwest and on the north by Stung Treng and Ratanakiri respectively, and on the sound and east by the Socialist Republic of Vietnam.
Mondulkiri is divided into 04 administrative districts and 1 municipality, Sen monorom City. With over 84,000 people, the province is Cambodia's largest area and also most sparsely populated province (rank 23rd). Eighty percent of Mondulkiri's population is made up of twn tribal minorities, with the majority of them beign Phnong, and the remaing 20 percent are Khmer, Chinese and Cham Muslims.
Mondulkiri has a high natural destiny due to good weather conditions, attractive views and landscapes, including waterfalls, mountain range, valleys, streams, green meadows stretching on the mountain top, fresh air, Sre Pok River on the border of Mondulkiri Province, mineral resources, forests, wildlife of the five wildlife sanctuaries, etc. All of these resources are the potential for the development of natural tourism and ecotourism, which are unique from other regions in the country and other countries in the region.
At the same time, Mondulkiri is also rich in cultural diversity of indigenous people, traditional dances, ethnic traditions, cultural events, handicrafts, local cuisines, nomadic plantations and elephants' tours that are the resources and potentials for the development of cultural tourism, especially community-based indigenous tourism.
History
The province was established out of Chhlong Ler from Kratié province by order of King Norodom Sihanouk in 1961. The name of Mondulkiri is related to the special topography of the province, which is featured by mountains, plateaus, waterfalls and valleys. During the Vietnam War in the late 1960s, Mondulkiri was home to three bases of the National Liberation Front of South Vietnam which resulted in numerous incursions and bombings by US forces. About 1970 the area fell under Khmer Rouge domination. Subsequently, much of the populace was forcibly removed to Koh Nhek (Kaoh Nheaek) district to provide labor for rice farming. Schools, hospitals and even entire villages were destroyed. As many as half of the people in the province died during the forced relocation in the 1970s. The Bunong (alternatively spelled Phnong) people appear to have lived in the provincial area for about 2000 years, but there is little documentation until France colonized Cambodia in 1864. Like other people in the province, the Bunong were displaced in the 1970s and only allowed to return to their traditional homeland in the 1980s.
There were 17 Governors of Mondulkiri Province from 1961-Present, including:
1. Colonel Khiev Bun (លោក វរៈសេនីយ៍ ខៀវ ប៊ុន) served as Provincial Govorner from 1961-1968 and 1969-1970
2. Colonel Nou Tho (លោក វរៈសេនីយ៍ នូ ថូ) served as Provincial Govorner from 1968-1969
3. Samak Mit Phan Laing (សមមិត្ត ផាន ឡាំង) served as Regional Chairman from 1970-1977
4. Samak Mit Nou Sarun (សមមិត្ត នូ សារុន) served as Regional Chairman from 1977-1979
5. Lok Kham Ngorn (លោក ខាំ ងន) 1979-1982
6. Lok Serm (លោក សើម) and Lok Moi Suey (លោក មយ សើយ) served as Chairman of Provincial People's Revolutionary Committee and Chairman of the Party Committee, respectively from 1982-1985
7. Samak Mit Chan Yoeun (សមមិត្ត ចាន់ យឿន) served as Chairman of Provincial People's Revolutionary Committee from 1983-1991 and served as Provincial Governor from 2009-2013
8. Samak Mit Ly Sun (សមមិត្ត លី សុន) served as Provincial Governor from 1991-1992 (National Government of Cambodia Era from 1990-1992)
9. H.E. Roth Saraem (ឯកឧត្តម រ័ត្ន សារ៉េម) served as Provincial Governor from 1992-1993 (The United Nations Transitional Authority in Cambodia-UNTAC 1992-1993)
10. H.E. Hou Sok (ឯកឧត្តម ហូ សុខ) served as Provincial Governor from 1993-1994
11. H.E. Chum Chhieng (ឯកឧត្តម ជុំ ឈាង) served as Provincial Governor from 1994-1999
12. H.E. Chhourm Bun Khorn (ឯកឧត្តម ឆោម ប៊ុន ខន) served as Provincial Governor from 1999
13. H.E. Toa Soeut (ឯកឧត្តម តោ សឿត) served as Provincial Governor from 2000-2004
14. H.E. Thou Sun (ឯកឧត្តម ធូ សុន) served as Provincial Governor from 2004-2007
15. H.E. Lay Sokha (ឯកឧត្តម ឡាយ សុខា) served as Provincial Governor from 2007-2009
16. H.E. Eng Bun Hieng (ឯកឧត្តម អេង ប៊ុនហ៊ាង) served as Provincial Governor from 2013-2016
17. H.E. Ngoun Ratanak (ឯកឧត្តម ស្វាយ សំអ៊ាង) served as Provincial Governor from 2016-Present
Geography
Mondulkiri is s located in the south-east part of the country and borders three provinces in Vietnam; Đắk Lắk, Đắk Nông, and Bình Phước provinces. Three rivers cross the province; Srepok, Preaek Chhbaar, and Preaek te Rivers. Mondulkiri Province has five natural protected areas with a total area of 1,185,661 hectares which is a type of wildlife sanctuary that is rich in dense forest, mixed forest, grassland, beautiful landscape. All protected areas are under the management of the Ministry of Environment after rearrangement of management authority with the Ministry of Agriculture, Forestry and Fisheries. The five wildlife sanctuaries are:
Nam Prech Wildlife Sanctuary: located between Sre Pok Wildlife Sanctuary and Keo Seima Wildlife Sanctuary, at least 30 species of wildlife live in Phnom Prech Wildlife Sanctuary, most of which are on the list of the Internationa Union for Conservation of Nature (IUCN). Phnom Prech Wildlife Sanctuary is culturally, economically and socially important for the local communities living and benefiting from it.
· Phnom Nam Lear Wildlife Sanctuary: a wildlife sanctuary and home to many species of wildlife and birds and is full of beautiful cliffs, small waterfalls, streams and lush landscapes.
· Lom Phat Wildlife Sanctuary: is home to many species of wildlife such as elephants, tigers, wild buffalos, bears, monkeys and about 100 species of birds. In addition to providing wildlife habitat, Lum Phat Wildlife Sanctuary is also a shelter and a source of income for many families, most of whom are indigenous.
· Sre Pok Wildlife Sanctuary: home to many globally endangered animals such as Asian elephants, leopards, tigers, cloud raindeers, giant rhinos, white-tailed deer and mountain crocodiles.
· Keo Seima Wildlife Sanctuary: has rich ecosystems, including about 60 species of rare and endangered species such as Silvered Langur. More specifically, Keo Seima Wildlife Sanctuary is home to seven cat species and an international conservation area for Asian elephants.
Administrative divisions
As of 2020, the province is divided into 1 municipality (Krong) and 04 districts (Srok), 04 Sangkat and 17 communes (Khum), and 92 villages. Sen Monorum municipality is the seat of government, commonly known Krong Sen Monorum or Sen Monorum City.
1. Sen Monorum Municipality (04 Sangkat)
2. Keo Seima District (05 Khum)
3. Koh Nhék District (06 Khum)
4. O Raing District (02 Khum)
5. Pech Chreada District (04 Khum)
The provincial symbol is decaled by Ministry of Interior via a Prakas No.2408 BrK dated 07 May 2020 on the Establishment of Mondulkiri province Symbol. The symbol has shape and image as follow:
- Round shape including Two oxen, a mountain, a tree, and a circular flower arrangement (Kbach Phni Tes).
- The image of two oxen (wild cows) represents the rich natural resources and wildlife, which it is present in the territory of Mondulkiri province. It also is a favorable location for the conservation of biodiversity and wildlife presently in the five wildlife sanctuaries in Mondulkiri province.
- The mountains and trees image represents the provincial location in the highlands, which are rich in mountains, forests, valleys, streams, cold weather in all seasons and Valuable natural resources, which are the main potential of the province, especially attractive to tourists to visit in all seasons and it is part of the contribution to social and economic development.
- The circular Kbach Phni Tes represents the progress of territorial administration, economic development, social security, morality, equality and gender equity, and the preservation of national cultural traditions under the roof of peace.
Accessibility
· Road: The main road through Mondulkiri is National Road 7 and 8, which starts in Phnom Penh (390 kilometers). Traveler can access to the province via National Road 76 from the southwest along border with Vietnam, and 141 from the north province as well.
Tourism
Mondulkiri Province has many potential tourist destinations, tourism resorts and many tourism communities that can attract tourists to visit and stay for a long period. However, most tourists only gather in major tourist destinations, such as Busra Waterfall, Phnom Doh Kramom Cultural Resort, Sea Forest Mountain Park, Bai Chao Resort and Coffee Plantation Resort.
---
Gallery
---
Category
---