Cambodia National Flag
There were different flags used as the national flag of Cambodia since 1863. The Cambodian flag has three stripes and the middle one is larger than the blue ones which are at the top and the bottom. However, the middle stripe is red with the Angkor Wat in the middle of the flag.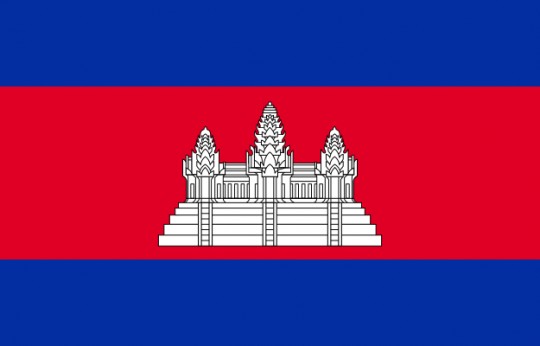 From 1863 till 1948 (the Kingdom of Cambodia under French Colony), even the Cambodian flag came into existence in the year of 1863, it was used before with an outline of blue border around the red color in the middle with Angkor Wat symbol at the center of the flag. This flag was used again in 1948 in June of that year.
Cambodian flag has gone through several changes, and the current Cambodian flag was adopted in 1993 which it has already been used between 1970-1970. However, when the monarchy was overthrown, the flag was changed. Since 1993, the above flag has become the official flag of Cambodia.
The flag of Cambodia symbolizes the country religious dignity and royalty. Two large blue stripes representing royalty, embrace on even larger red stripe which represents the nation. The image of the white temple represents the nation's religion. Generally speaking, the colors and image on the Cambodian flag personify the country's slogan: Nation, Religion, King.
---
Gallery
---
Category
---
Reference
- Keo, C. (2009, October 06). The Flag of Cambodia [Blog Post]. Retrieved from http://www.chanbokeo.com/index.php?gcm=1411&grid=123502&gtop=5326
---